The B-17 Model 299Z - the five-motor test-bed for next-gen aviation powerplants ...
There are a number of photos floating around the internet (google "Boeing 299Z" and you'll find a lot of them) that show a five-motored B-17, with the fifth motor - inevitably a huge radial or turbo-prop - mounted where the bombardier and navigator once sat. These almost look like photoshopped "goofs" like these: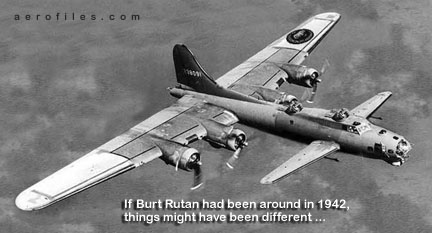 But it turns out that the plane (not those two photos shop queens immediately above) are real, and that there were two of them (or three of them, depending on how you "count" the conversions). From the book "Fifteen Ton Flying Fortress," beginning on P.206, (and other sources, but that's a good 'un), Boeing created what it called the Model 299Z, out of late-pr
oduction Vega-built B-17Gs.
The first was 44-85813, and it was converted at Boeing's Wichita plant in April of '46 for use by Wright Aeronautical Corp, initially to test their 5,000 hp XT-35 "Typhoon" turboprop (1948).

This same aircraft was later used to test the Wright TC-18 turbo compound engine (1949), the J-65 jet engine (1952), the XT-49 turboprop (1955) and finally the Turbo-Compound version of the Wright R-3350 (1956). This, the most powerful and remarkably the most fuel-efficient of the R-3350 series, used captured exhaust gases to feed power back into the engine, raising the HP up to 3700 hp at takeoff (it added 550 hp per engine at take-off and 240 hp at cruise setting by using waste gasses to create more shaft horsepower. The lead photo in this thread (the color one) is reproduced in my book and identified as 44-85813. The engine appears to be the turbo-compound R3350.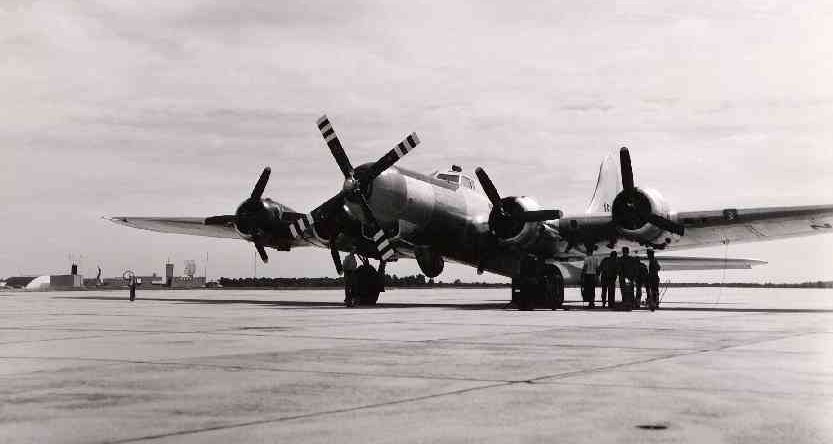 This Model 299Z had the cockpit moved back (you can see that in the photo) to put distance from the engine to the crew, for safety purposes and CG reasons. The plane was owned by the air force and bailed to Wright, and its USAF designation was EB-17G,
changed (in 1956) to JB-17G. While testing the Wright Typhoon turbo-prop, the plane had the tail number 485813 on the tail, and below that in all-cap block letters, "WRIGHT TEST" - which might have stood for the Wright Aeronautical engine division, and not "Wright Field," though that's not entirely clear, as I have one photo that's captioned "Wright Field" (it was at that time a major USAAF/USAF test base, and now part of Wright-Patterson AFB).
The markings could mean either one - not that I suppose it really matters which "Wright" the slogan on the tail referred to. At that time, this aircraft also had the tail number 485813 on the fuselage below the horizontal tail, and extending forward until just shy of the fuselage door.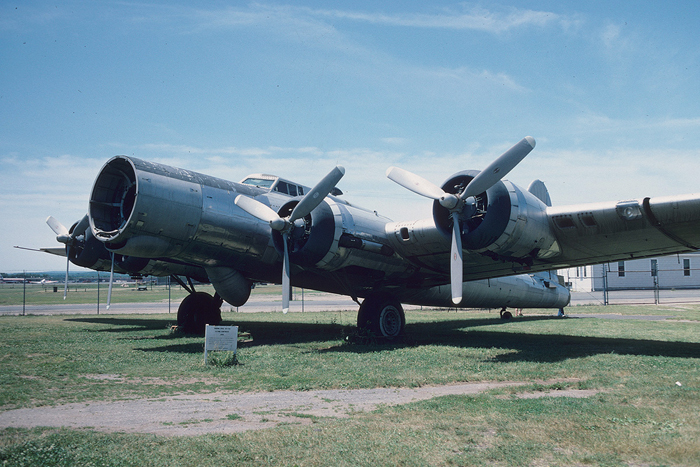 The second Model 299Z was 44-85734, and was rebuilt at Boeing Seattle (not Boeing Wichita) to be used by rival engine manufacturer Pratt & Whitney. Its cockpit was pushed back 6" further than the Wright's EB/JB-17G. P&W used it to test their XT-34 turboprop, but my source didn't indicate if it was used to test other aircraft, or when it was retired from testing.
The "third" Model 299Z was not rebuilt by the Air Force (as had been the case of the previous two) - it was privately owned when rebuilt for use by General Motors/Allison. Therefore, it's not clear if the Boeing Model number, 299Z, applies (at least of
ficially), thought it was rebuilt to serve the same purpose (though not so completely rebuilt, as I note below). Originally Vega-built B-17G 44-85747, it wasn't rebuilt until 1957, at which time it was already owned by GM/Allison. It was used to test the T-56 turboprop, a much lighter and less-powerful engine, so it was not necessary to relocate the flight deck - it remained in its as-manufactured position. Because this was a private venture from start to finish, and not something likely to have been widely touted by GM/Allison's PR crew, relatively little is out there (at least that I could find).
If you google search on "Boeing 299Z" (and "JB-17G," but - oddly, not so much - "EB-17G") you'll get many more remarkable photos of these test aircraft, along with a lot of photos of an unremarkable and stock B-17G, which appears to be a restored Fort on the airshow circuit. But you'll also see the modified
Z (as shown here, including ones without the engine mounted, which is really cool) and many contemporary photos taken while the Zs were in operation. As with most google image searches, the captions are sketchy at best, but if you're thinking of modeling one of the three, you can find useful photos to help guide your efforts. I hope all of this helps - a fascinating request, and at the right time, as I was reading the book Fifteen Ton Flying Fortress (finished it tonight) when you asked, so I had the info right at hand.